Colorado's rivers are the lifeblood of the West, contributing billions of dollars to the economy each year. Without healthy rivers and a secure water supply, Colorado's way of life wouldn't be possible. Rivers are responsible for creating 131,000 jobs and contributing $18.8 billion to Colorado's economy. Yet, the impacts of climate change and a growing population have put our rivers at risk. This year, we have the opportunity to take action for our rivers.  Voting is the most impactful action we can take to ensure that our rivers, streams, and other waterways remain healthy. As ballots begin to arrive, we urge you to be an advocate for Colorado's rivers – and vote your whole ballot.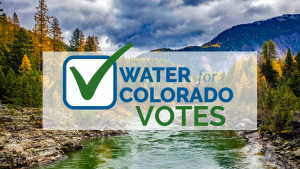 Colorado's rivers have supported our economies, health, and livelihoods for centuries – and now they need our support. Through continued stewardship of our state's waterways, we can enhance the health of Coloradans as well as the health of Colorado's economy.
Our rivers – and the jobs and economic value they bring to our communities – are at risk from the impacts of climate change and rapid population growth. The Interior West has been in a drought for going on three decades, and Colorado's West Slope is home to one of the largest climate change-driven hotspots in the nation.
Up against these challenges, it's more important than ever to vote in this election. We need Coloradans like you to vote to protect our rivers. To vote to ensure clean, reliable drinking water. To vote to keep our farms and ranches thriving. To vote to sustain our economy. Together, we must vote to keep Colorado's rivers flowing.
Do you have a plan to vote in the upcoming election? Do your friends and family have a plan to vote? We have collected resources for voters to ensure all Coloradans have access to the information they need at the ballot. Stepping up for our rivers has never been more important. If you care about Colorado's water future, vote your whole ballot – up-and-down, front-to-back – and help to keep Colorado's rivers flowing.
Take action for your rivers this election – visit our Water for Colorado Vote page for resources and make a plan to vote today.
---
Oct 07, 2020 -
Grand County rancher Paul Bruchez stands in a hay field near Kremmling, holding a small tuft of hay between his fingertips, twirling it back and forth, seeing how quickly...