"As an industry, we don't really have any infrastructure, if you will. Our corporate infrastructure is our public lands and our waters."
David Dragoo, Mayfly Outdoors, Montrose, Colorado- Denver Post, 6/22/20- Water-related recreation pumps $18B into Colorado economy, business group says 
Over the last two decades, the impacts of climate change have hit Colorado particularly hard. Last year we saw three of the state's largest wildfires tear through our forests and watersheds, impacting our communities, water supplies and economy. Prolonged drought and growing aridity are putting our farms and ranches at risk, decreasing water supplies, and threatening our long-term water security. These challenges endanger the livelihood of every Coloradan, from the plains, to cities and mountain communities. As we look to the future, it's more important than ever that we work together to identify new opportunities to help our communities, forests, watersheds and environment adapt to the impacts of climate change, particularly those depleting our scarce water resources.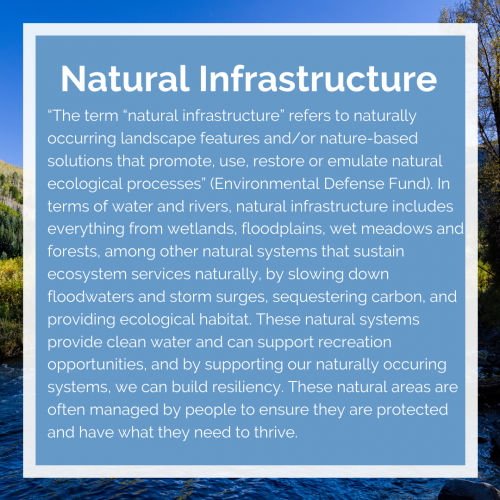 We can help secure our water future, make our communities and economies more resilient and reduce the impacts of climate change by protecting and restoring our natural infrastructure including our wetlands, floodplains, meadows and forests. Nature-based solutions, like restoring high elevation, or "source" watershed headwaters, wet meadows, wetlands and floodplains, can safeguard clean and reliable water today and in the future. Nature-based solutions protect, restore or mimic natural water systems. They slow down snowmelt and storm runoff, recharge critical aquifers and provide flood control. These solutions also help improve water quality, sequester carbon, mitigate wildfire impacts, protect riparian areas and source watersheds, and improve wildlife habitat.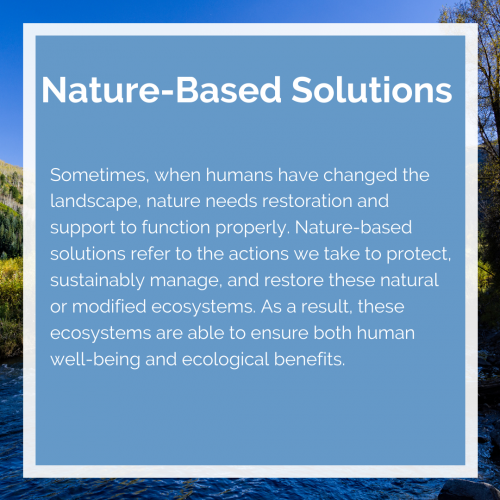 Nature-based solutions aren't just good for the environment but they help revitalize communities and our economies. Healthy rivers and watershed restoration are smart investments and can contribute significantly to economic growth and job creation. A recent Theodore Roosevelt Conservation Partnership (a Water for Colorado Coalition member) report found that, on average, every $1 million invested in watershed restoration creates 17.4 new or sustained jobs. And a University of Oregon study found that for every $1 million invested in watershed restoration up to $2.5 million in total economic activity is generated. Moreover, eighty percent of restoration project funds remain in the region where the projects are located, creating local jobs. Healthy rivers also spur tourism and recreation, which many communities rely on for their livelihoods. Last year, a Business for Water Stewardship study found that Colorado's rivers are a major economic driver for the state, supporting over 131,000 recreation and tourism jobs, contributing $18.8 billion in economic output for the state and providing $2.7 billion in tax revenue.
For too long, our state has underfunded projects that protect the health of the wetlands, floodplains, meadows and forests that are critical to maintaining and enhancing our water supplies and to increasing their resilience against the threat of wildfires. Voters continue to approve measures to fund water and river projects, but these sources of revenue can't meet the demand. Traditional sources for water funding, including severance taxes on oil and gas, are also drying up and leaving our waterways at risk. Yet, with once in a generation state and federal stimulus funding designed to help states recover from the effects of COVID-19, Colorado has a unique opportunity to prioritize our natural infrastructure with additional funding to protect and restore it. Fortunately, the state has already started taking advantage of this opportunity by appropriating $35 million of its state stimulus dollars for Water Plan implementation and watershed restoration grants and over $50 million to provide grants and build capacity necessary to expand for forest management activities that will improve the health of our watersheds and reduce the risk of catastrophic wildfire.  It's urgent that Colorado keep this momentum going by increasing funding for nature-based water and river solutions to protect our water resources for generations to come and to ensure a strong economy into the future.
Our rivers, streams, wetlands and riparian areas are some of the state's most valued natural resources. They are part of what makes Colorado so special drawing millions of visitors here every year. Businesses choose to locate in Colorado because of its natural beauty and access to the outdoors for their employees to enjoy. And billions of dollars are generated every year in this state by river-related recreation with billions more dependent on our agricultural production. Prioritizing funding for our water security in Colorado will put people to work, ensure our water resources are secure and healthy, and support the economy and the environment for years to come.   
If you're interested in learning more about natural infrastructure, nature-based solutions, and what decision-makers can do to improve our water security, read Water for Colorado's policy paper: How Nature-Based Solutions Improve Climate Resiliency and Watershed Health in Colorado. 
---